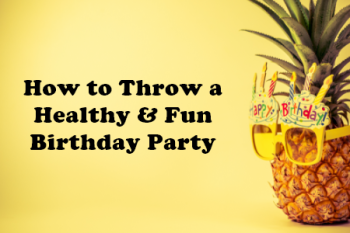 Cake, ice cream, and candy; All staples for a kid's birthday party. However, the recommendation is for children ages 2-18 to consume less than 25g or six teaspoons of sugar per day. An average slice of cake with frosting has a whopping 30g of sugar, put a scoop of ice cream on top and a party can be a total sugar rush! While it is fine to indulge during special events, it may be helpful to have alternative ideas for snacks and activities that provide less sugar and just as much fun! 
Sugar and Kids
Sugar isn't bad, the brain needs glucose to function. However, when the brain gets too much, it can impact cognitive abilities. According to the Harvard Medical School, they have linked excessive sugar intake to aging cells and memory and cognitive deficiencies.  More research has found that, as a child's added-sugar intake rises, so does that child's risk for hypertension, fatty liver disease, and type 2 diabetes. And we must mention tooth decay. Cavity-causing bacteria love sugar. If your child has a diet high in sugars, they are at higher risk for tooth decay, which means more restorative work.  While birthdays are a day of indulgence, after cake and ice cream, we can be smart about sending kids home with goodie bags or pinata items that are free from sugar. Dr. Vogler at Smile by Design has a few fun ideas you can incorporate into your next birthday party. 
Party Favors
Kids love to take treats home from parties! Instead of filling baggies up with candy, try some of these fun and sugar-free alternatives. 
Bubbles
Everyone loves bubbles! Put one for each child in a cute bag or vase and let them each take one when they leave the party. You can get 12 of these colorful and fun bubble wands from Amazon for less than $14.
Mini Squishies
These cute, squishy, stretchy squishies are all the rage. You can score 40 of these cute little party favors for $17! That's only .42 cents each! And the kids won't go home with tummy aches from too much sugar!
Are you worried your child may have indulged a bit too much and might have decay? If so, we can help! Schedule an appointment today.
90s Flashback Slap Bracelets
You can't go wrong with a throwback to the 90s. These slap bracelets come in 24 different designs and each child can take home multiple bracelets since they come in a pack of 72 for only $11.
Galaxy Slime
There's no doubt kids love messy, sticky, slimy goo. These galaxy putty balls will make a perfectly icky addition to any party! Get 24 for $15. 
Wind-Up Teeth 
Finally, since we are being tooth-friendly, these wind-up teeth are a classic toy that any child would enjoy. Get 12 for $11.
Birthday parties are meant to be fun! Keep kids happy and healthier with some alternatives to sweets. Have you tried to throw a healthier birthday party? What have you tried?  
Dental health is our passion and we try to encourage our patients to make little changes to better their oral health. One of the best ways to do that is to get in for your regular appointment! Call A Smile by Design today!  
The content of this blog is not intended to be a substitute for professional medical advice, diagnosis, or treatment. Always seek the advice of qualified health providers with questions you may have regarding medical conditions.